Please enjoy the following blog in honor of Earth Day written by Ani Kasch, of the Environmental Center who is a friend of Patty's.
---
5 Quick Tips To Reduce Waste:
How To Reduce Waste During ConstructionThe EPA estimates that 548 million tons of construction and demolition (C/D) debris (concrete, asphalt, steel, wood products, drywall, brick and clay tile, etc) was generated in the U.S. in 2015 alone — more than twice the amount of generated municipal solid waste. The reduction, reuse, and recycling of C/D can be accomplished through deconstruction and reclamation. Keeping the materials in the loop is an important part of reducing waste in Deschutes County.
Did you know: 25% or more of Deschutes County's Knott Landfill consists of construction and demolition waste? This seems daunting, but there are simple ways to reduce this number. Are you thinking about a remodeling or construction project? Here are some ways to rethink construction waste:
1. Are you remodeling? Take the time to deconstruct:Getting rid of old kitchen cabinets? Call the ReStore's reclamation services. They will remove the old ones out for you and then take the ReStore where someone else can buy them. Keep it in the loop! If you're getting rid of appliances that still work, try to sell them or donate them.Gently remove old wood and trim rather than using the sledgehammer. Satisfaction will come from passing materials on and you can go hit the punching bag at the gym to get your energy out!
2. Set up a recycling station at the construction site:Get a good idea of what you will need: what materials on site will be good for donation? What different recycling streams can you contribute to? Outline a recycling area on the construction site. Obtain containers for each donatable and recyclable. Make sure you have clear signs for each area! Educate everyone on site so folks know what goes where.
Kor Community Land Trust models this well.
Check out their recycling station below.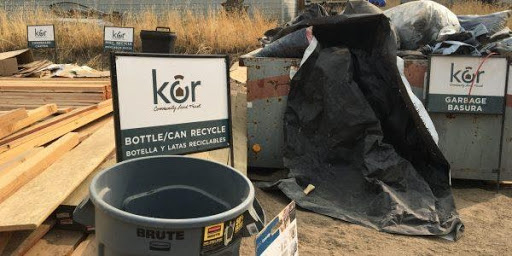 3. When designing your new look, take the following into consideration: Use non-toxic options like natural flooring and low or no VOC paints.Can you find the building material you need at your local ReStore? Choose classic designs and finishes that work well over time rather than the trendy new look.
4. Time to paint!? Try a sample before you commit. Buy only what you need! Try a paint calculator. Only need a little paint? Can you find a good color at the ReStore? Don't toss old paint! Recycle it: donate usable paint, all else take it to Knott Landfill for proper disposal.
5. Get inspired by other people's reuse ideas:
Broken pieces of concrete can create a unique and interesting walkway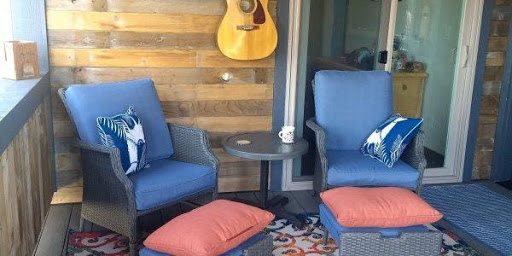 ADU porch showcases reclaimed cedar fence made into house siding
Refreshed old tile with new paint and a stencil.